So it's a lazy day and I'm looking for interesting blog material. I thought I'd look up Snoopy Fashion just for fun to see what came up. I mean after all snoopy is the the master of imagination, showmanship, philosophy, and not being afraid to be wise and act like you're five at the same time. He's pretty much my hero! Not too mention he's quite a fashionista himself and knows how to rock out so why wouldn't you want to be his friend?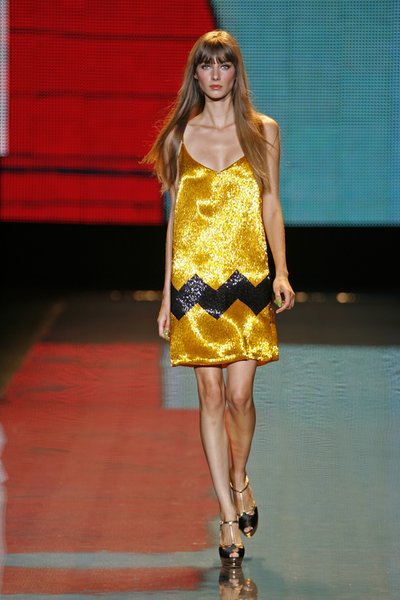 I actually found a fashion show from 2008 where various designers were supposed to make outfits that were inspired by the cartoon to benefit Dress for Success. Unfortunately there were a few incidents similar to Lady Gaga's
Kermit the frog
or
hello kitty
dresses but there were some definite concerted efforts to be INSPIRED by a cartoon without being too literal.
A lot of
them missed the mark in my opinion (just check out Flintstones girl down there) but it was still fun to watch and that sounds like a fun challenge.
These last few photos are from another fashion show where famous designers were asked to create a look for Snoopy and Belle (the girl snoopy) dolls. It was displayed at Japan's fashion week. My personal favorite is GVGV's retro rocker outfits. I want that dress in my size! Also that Bill Blass polka dot dress is awesome! Check out this blog for more pics

If It's Hip It's Here Blog